Human and animal health,
Environmental health is one.
One Health is a way of thinking that considers "the health of humans, animals, and the environment as one" and protects them in an integrated manner. In order for us to live healthily, the animals living on the earth, and the earth itself, must also be healthy.
It is important that we all think and act together.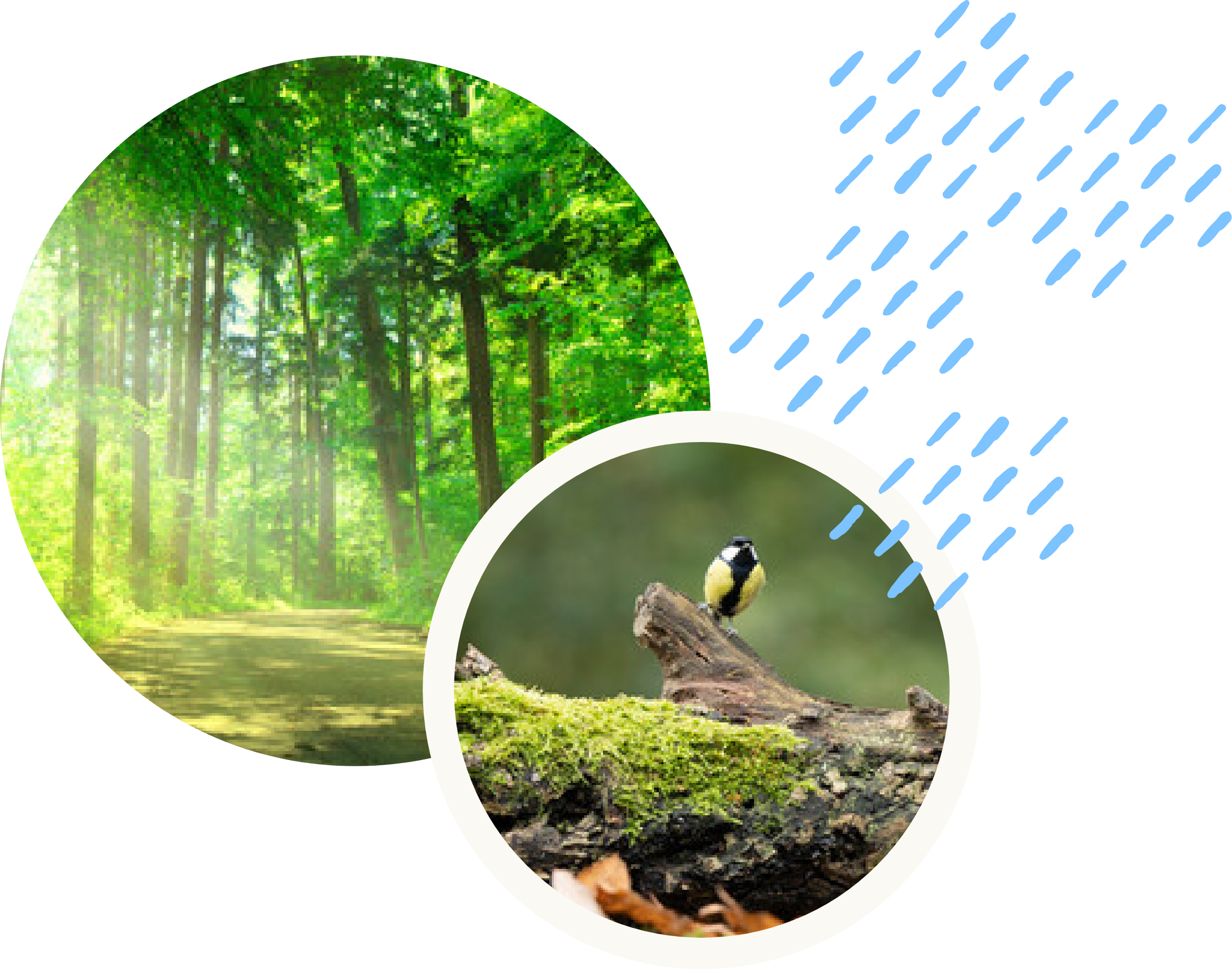 About OneHealth
One health logo mark
It shows that people, animals, and the environment are closely connected and support each other in the ecosystem. In addition, it is a clean and bright color that expresses the hope that we will pass on a healthy and sound state to the next generation.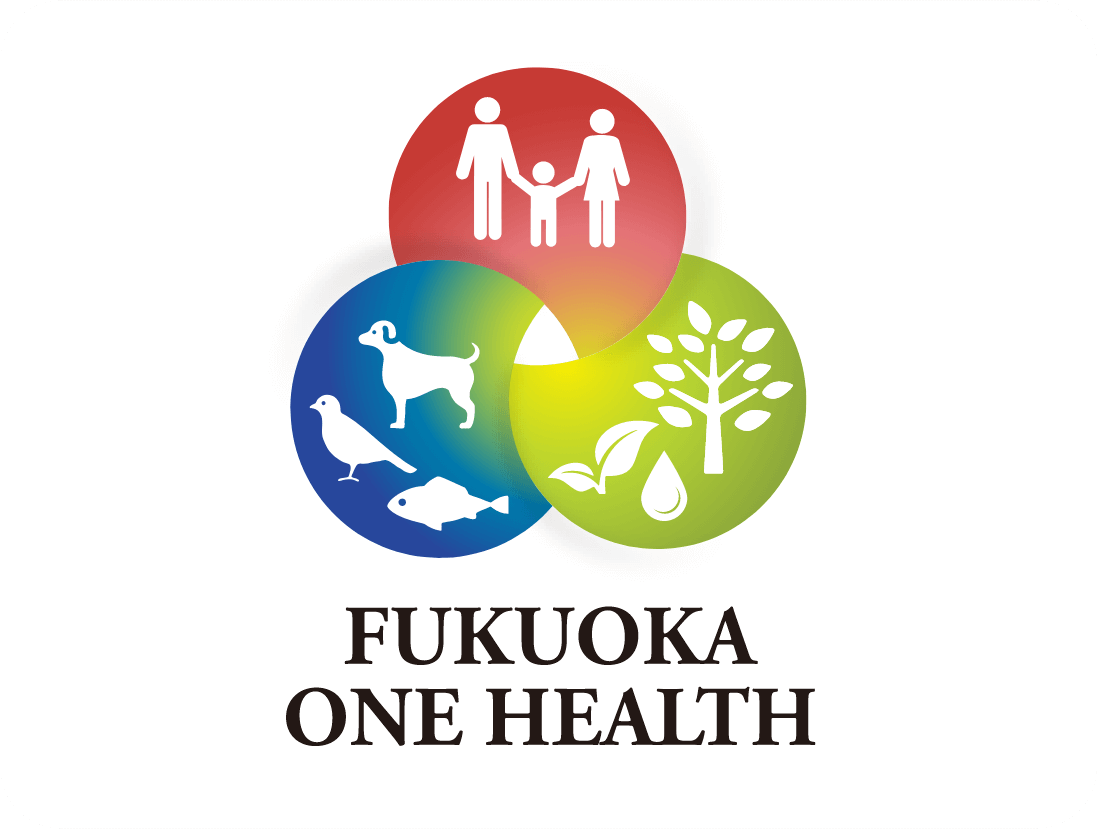 Forest and one health
Mt. Shioji consists of four mountains, Mt. Oshiro (410m), Mt. Ohara, Mt. Iwaya, and Mt. Suibin. 'One Health Forest Shioji' is a forest of about 342 hectares covered with natural and artificial forests maintained in such a satoyama, where anyone can enjoy forest bathing while feeling the four seasons. You can promote your health while enjoying nature with all five senses, and you can also learn the importance of biodiversity and the natural environment by watching the forest where various creatures coexist.
Biodiversity
"Biodiversity" refers to the rich individuality and connections of living things. Many creatures live on this earth, and we human beings are members of a large ecosystem called the earth. Due to the impact of human activities, living things are rapidly becoming extinct and their diversity is being lost. Take a stroll through One Health Forest Shioji Temple to deepen your understanding of biodiversity.
One health
6
Point
1

Measures against zoonotic diseases

Efforts to prevent the occurrence and spread of common infectious diseases

2

Measures against drug-resistant bacteria

Take medicine according to prescribed dose and usage

3

Environmental protection

Protecting the natural environment where all life on earth is nurtured

4

Creating a symbiotic society for humans and animals

Take good care of your pet's health, including regular checkups

5

Health promotion

Promoting health by cherishing contact with pets and nature

6

Building a better relationship between the environment and animals

Maintaining healthy farmland, water, and livestock health for safe and secure food
Role of the forest
Role of the forest
Forests play a variety of roles in protecting our living environment, such as enriching water resources, suppressing landslides, and healing people's hearts.
Forest bathing has a health-enhancing effect due to phytoncide released from trees.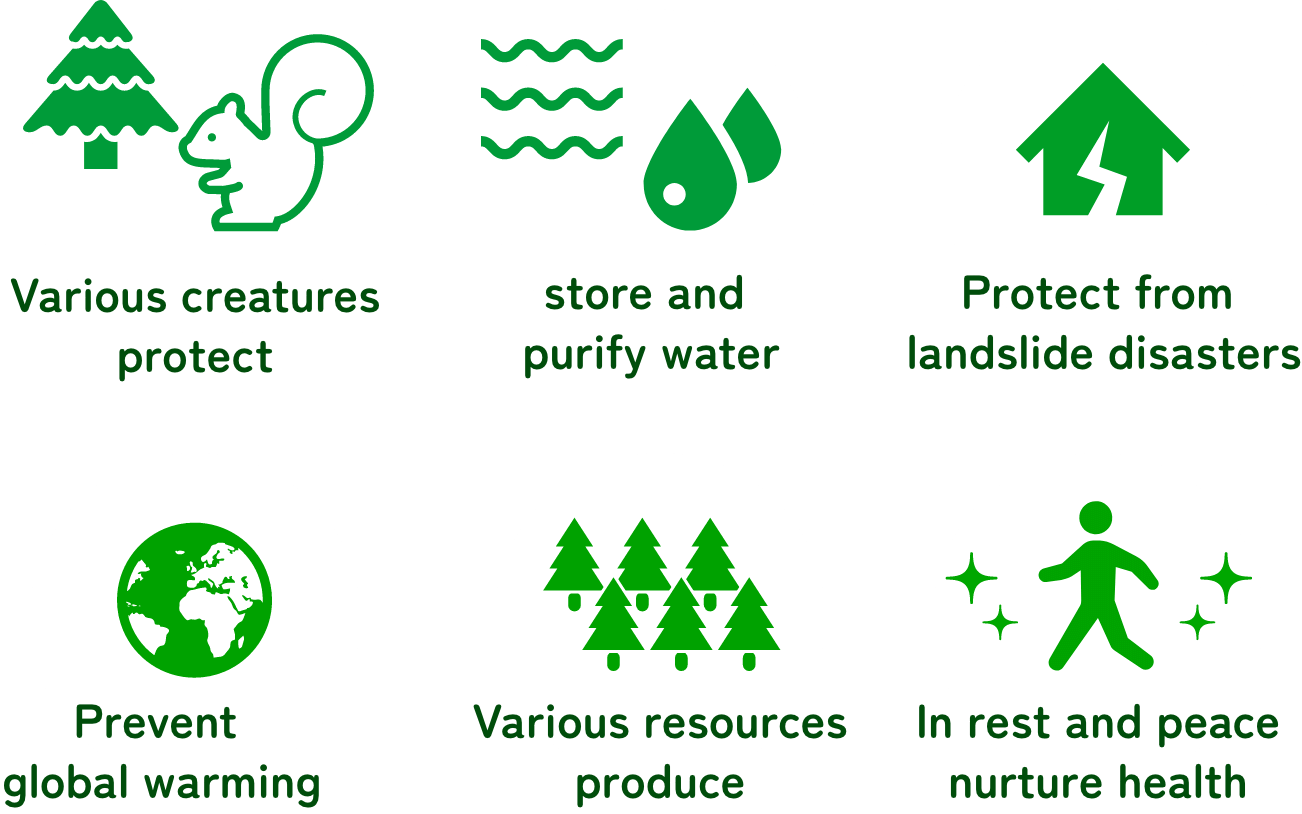 Effects of forest bathing
Autonomic nervous system

1. Decrease in blood pressure and heart rate (pulse rate)
2. Improve sleep

Psychophysiological reaction

3. Feel better
4. Improve depression

Endocrine system

5. Reduce stress hormones
Source: 'New Edition Forest Bathing' by Dr. Lee Kyung, Doctor of Nippon Medical School
MAP
One Health Forest ShioujiOne health experience course MAP
It is a relatively gradual course with little difference in elevation, with a distance of 2.5km and a time required of about 2hours.
We offer hands-on forest bathing experience tours with One Health guides who provide easy-to-understand explanations about One Health and forests. We are looking forward to your participation! !
Tour acceptance period

Reservations are accepted at any time except when the park is closed *Please see the reservation calendar for details.
*In principle, the park is closed on Mondays (if Monday is a public holiday, then the following day) and the year-end and New Year holidays (12/28-1/3)

Tour duration

Within 3hours from 10:00 to 15:00 ① Morning session: Start at 10:00 ② Afternoon session: Start at 13:00

Application method

Please apply from the 'Tour application' banner on this site or by phone at least 4 days before the desired date of participation.
Telephone:092-932-7373

Capacity

10 people each time…Applications will be accepted in order of application, and will be closed as soon as the capacity is reached.
*1 We will consult with you separately if there is overlap with other applicants.
*2 For groups of more than 10 people, please contact the management office directly by phone.

Entry fee

free

What to bring

Drinks, towels, clothes suitable for walking,(rain gear) etc.
When you enter the forest, first take a deep breath.
You can feel a sense of unity with the forest of One Health, away from everyday life.
The green that shines in the eyes, the wind that passes through the body, the chirping of birds that can be heard...
It is important to experience forest bathing with all five senses.
It is said to have the effect of releasing the tired brain and enhancing the immune system.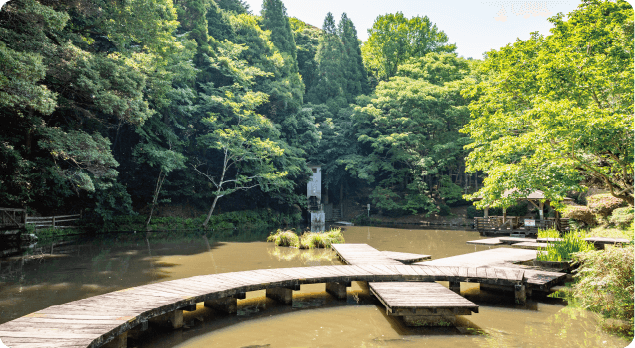 1

Rokoku Pond

As soon as you step into One Health Forest, there is a water clock pond that reproduces the water clock that appears in the Nihonshoki.
There are lots of carps, turtles, killifish and water striders. Kingfishers can also be seen occasionally.
2

Biodiversity forest

The wetlands between the trees are a paradise for frogs and dragonflies. By thinning the trees, sunlight enters the forest, attracting a variety of creatures and creating a rich environment.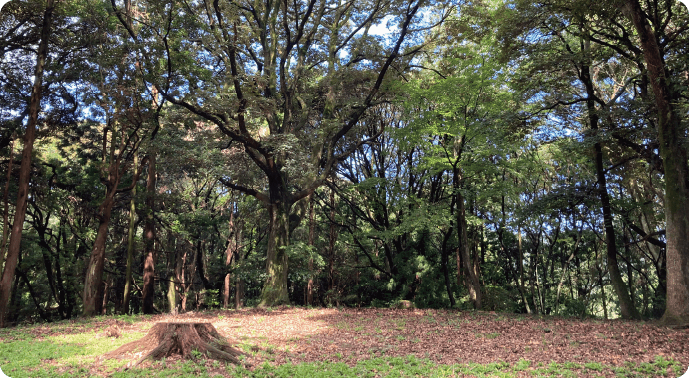 3

Evergreen forest

Forests of evergreen broadleaf trees that are abundant in Satoyama in this area. The blessings of trees have supported human life since ancient times. In autumn, the sound of falling acorns can be heard everywhere.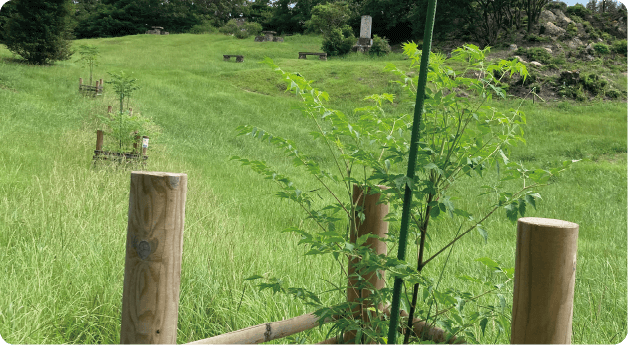 4

China tree

A china tree is planted here. Sendan is a tree that can be used as one of domestic furniture materials that can be processed into wood in just 20 years, and is a tree that is expected to have a sustainable future for forestry.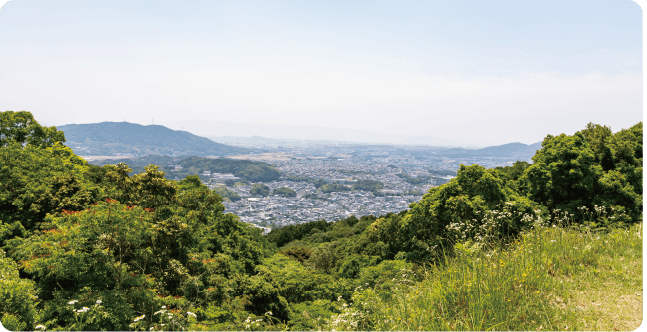 5

View of Mt. Shioji

After passing through the forest of evergreen trees, you can see the streets of Dazaifu and Tsukishino spread out in front of you, and on a clear day you can even see the Mino mountain range in the distance. Yakimegahara is a historic site of the Ono Castle Ruins, where you can also find charred rice.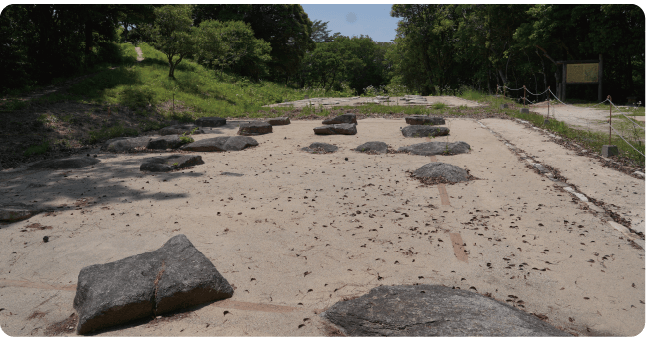 6

Magnificent foundation stone

Built 1350 years ago, Ono Castle is Japan's oldest mountain castle. Stroll around the many historical sites while walking on the earthworks. Masunaga Tensoishi is the site of a group of warehouses. You can experience the coexistence of history and nature from the various saplings that grow on the earthworks.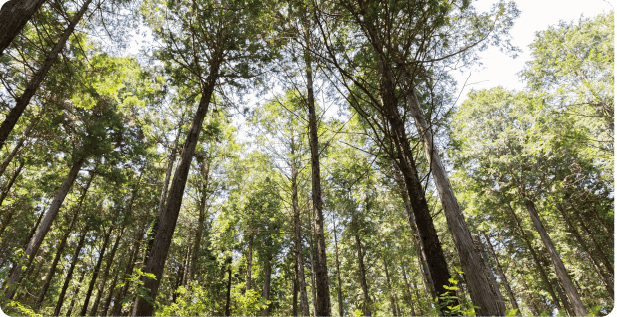 7

Maintained cypress forest

Using wood also helps to protect the environment. Properly managed artificial forests are pleasant forests.
Let's think about the health of the environment (sustainable society).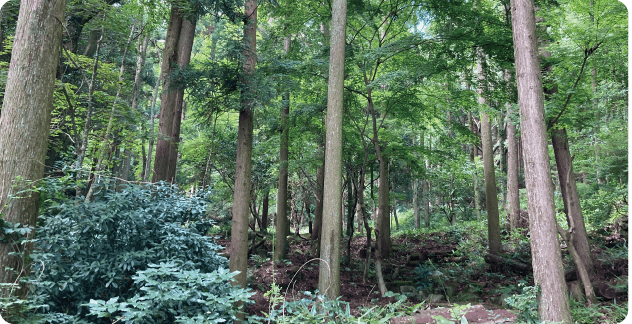 8

Symbiosis of various tree species

The various trees that were planted when the park opened became a forest after many years, and now many wild birds come to visit. It is a beautiful forest created by the collaborative work of humans and nature.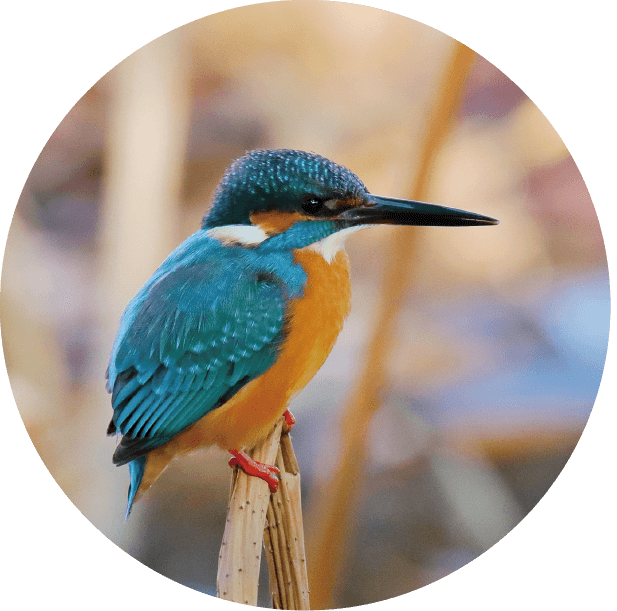 9

Kingfisher

~Maybe we can meet at Roukoku Pond~
It is about 17 cm long and has a long beak, making it excellent for catching fish. It inhabits watersides, and its jade-like body color is like a flying jewel.
10

Kingfisher

~Go to the forest with memories~
Stone pavement leading to Rokoku Pond. It uses paving stones from tram tracks that used to run in Fukuoka city. Taking care of things is also one of the one health.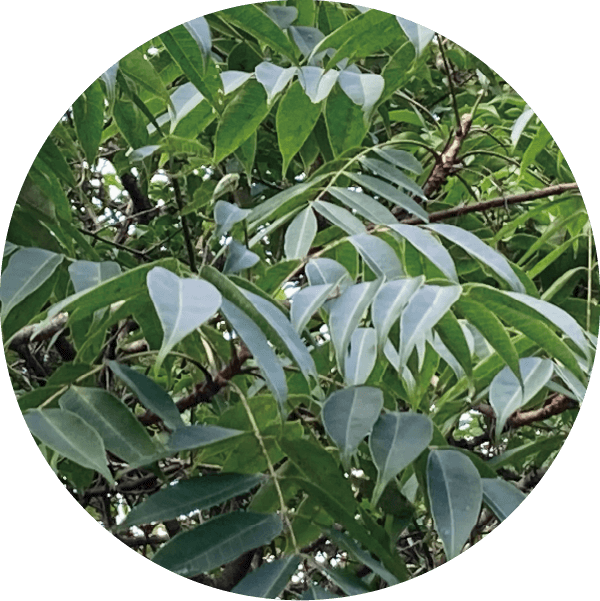 11

Goby tree

~Beautiful things have thorns~
You can use ingredients of goby nuts, which is known for its beautiful autumn colors, as a raw material for candles, but be careful not to touch the sap on your skin as it can cause a rash.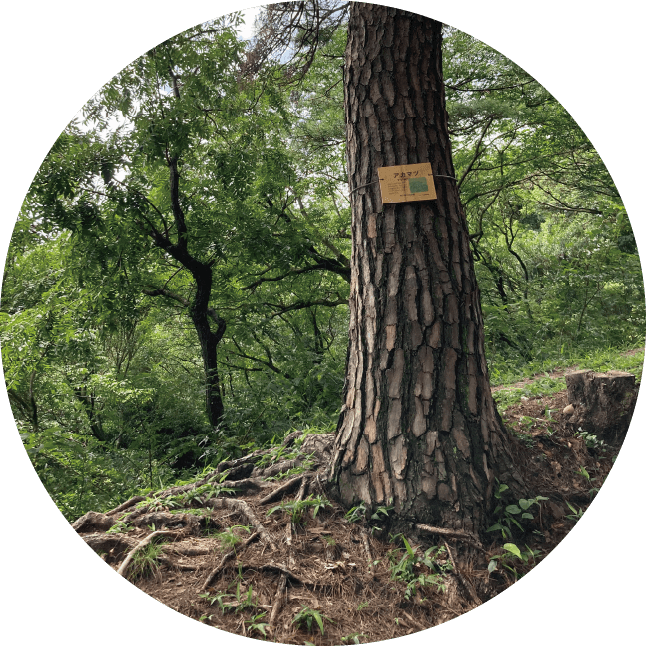 12

Natural pine

~A rare tree now~
In recent years, wild Japanese red pine and Japanese black pine, which have become rare due to pine weevils, grow naturally. Feel the unique terpene scent.
One Health Forest Museum
Learn about OneHealth.
Falling in love with Mt. Shioji.
One Health Forest Museum (free admission)
The 'One Health Forest Museum' is a raised-floor community space that stands at the entrance of 'One Health Forest Shioji'.
You can learn more about One Health and have fun learning about the nature and history of Mt. Shioji. Inside the museum, there is also a deck space where you can enjoy a peaceful time in nature.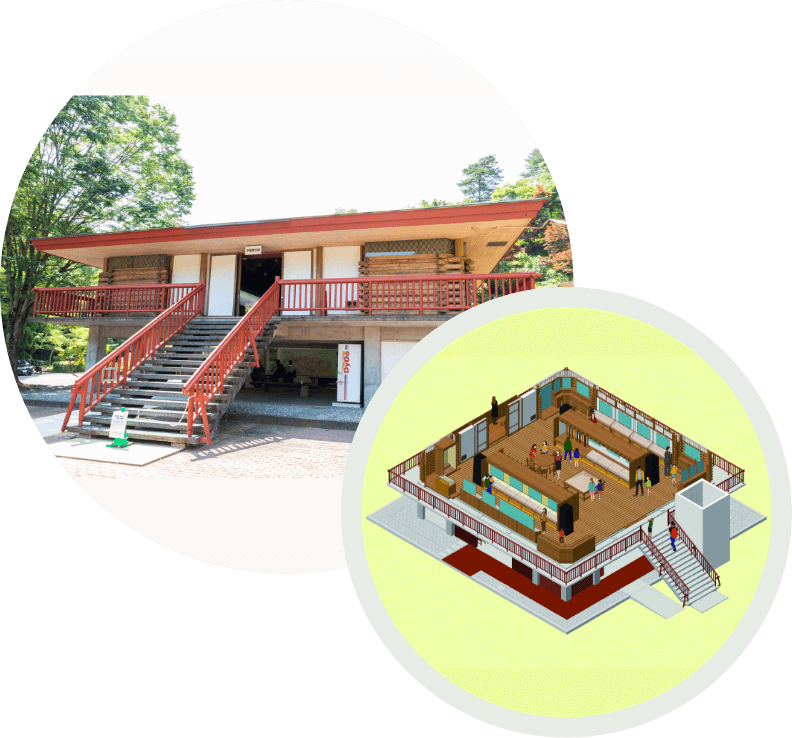 Precautions before entering One Health Forest
One Health Forest is a natural forest, so various dangers coexist.
Please check and enjoy forest bathing.
●Wear shoes that are comfortable to walk in as there are mountain trails and grassy fields on the way up and down.
●For low-cut shoes, tuck trouser legs into socks to prevent pest infestation.
●Wear long sleeves and long pants that cover little skin to prevent insect bites and rashes from trees.
●Don't throw trash in the forest。
TOUR
One Health Forest ShioujiTour reservation
Experience
One Health Forest ShioujiHow to go to One Health Experience
By car

From National Route 3 to the site via Prefectural Route 60 (Iizuka Onojo Line) Prefectural Route 35, from Dazaifu to the site via Shiouji forest road

By public transportation

About 4 km from Nishitetsu Bus 'Kenmin no Mori Iriguchi' (about 60 minutes on foot)
Approximately 4.5 km from Nishitetsu Tofuro-mae Station (approximately 60 minutes on foot)
About 5 km from Nishitetsu Dazaifu Station (about 70 minutes on foot)
About 5.5 km from JR Umi Station (about 80 minutes on foot)

Facility information

Regular holiday

Mondays (the following day if Monday is a holiday), December 29th to January 3rd

business hours

April-September/9:00-18:00 October-March/9:00-17:00
Free parking lot (150 spaces), restrooms, diaper changing table, baby stroller, food OK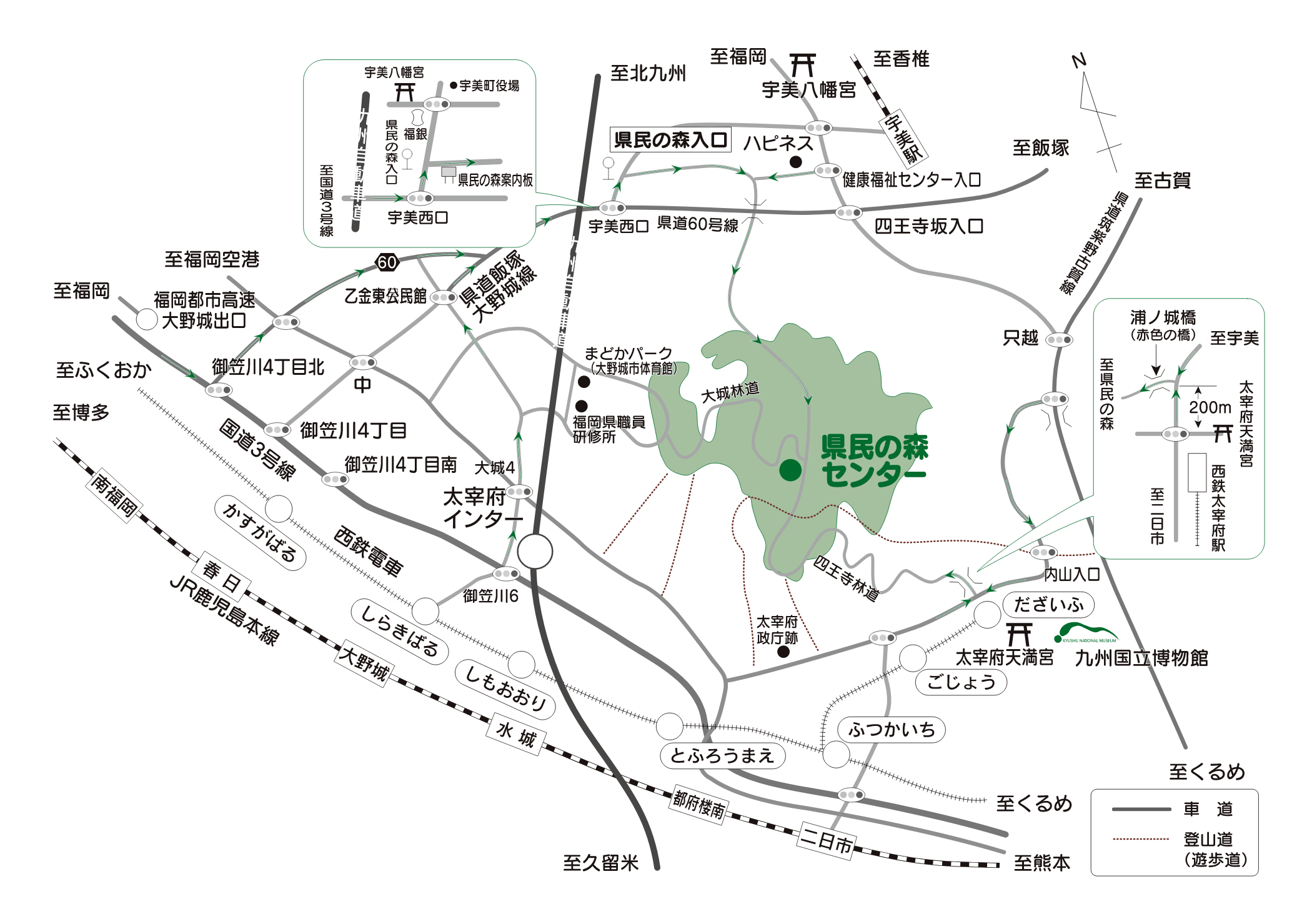 Inquiry
The personal information you enter will be used only for answering inquiries and sending materials.
*Please see 'Privacy Policy' for the handling of personal information. Please enter all required items.